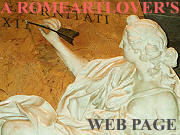 What's New!

Detailed Sitemap


All images © by Roberto Piperno, owner of the domain. Write to romapip@quipo.it. Text edited by Rosamie Moore.
Page added in July 2014.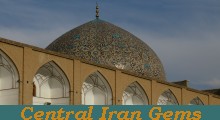 - Safavid Isfahan - Other Mosques
(dome of Sheikh Lotfollah Mosque at Isfahan)

You may wish to read an introduction to this section first.



Sheikh Lotfollah Mosque


Robert Byron, the author of The Road to Oxiana, an account of his travels in Persia and Afghanistan in 1933-34, had strong views on some of the monuments he visited. Of the two mosques at Naqsh-e Jahan, the main square of Isfahan, he dismissed imposing Shah Abbas Mosque as being not important in the general scale of things, but he enthusiastically admired Sheikh Lotfollah Mosque. The two mosques were built at the same time and most likely by the same team of architects and decorators in the early XVIIth century.



Sheikh Lotfollah Mosque - views of the passage to the prayer hall; (inset) plan of the building


The outside of the mosque is careless of symmetry to a grotesque degree. Only the dome and portal are seen from the front. But owing to the discrepancy between the axis of the mosque and that of the Ali Qapu opposite, the portal, instead of being immediately under the dome, is set slightly to one side of it.
Robert Byron - The Road to Oxiana - Macmillan 1937.
The misalignment between portal and prayer hall was caused by the need to orient the latter in the direction of Mecca, hence the mihrab is on the south-west wall. The portal leads to a passage which turns around the prayer hall to reach its actual entrance.



Sheikh Lotfollah Mosque - muqarnas (a typical decoration of Islamic portals - you may wish to compare this image with a similar one at Yazd)


The mosque was dedicated to Sheikh Lotfollah, a famed preacher from Lebanon who was invited to Isfahan. It was used by Shah Abbas as his private mosque, so it does not have minarets calling the faithful to prayer. The portal was completed before the prayer hall because Shah Abbas gave priority to the completion of Naqsh-e Jahan. The muqarnas were decorated with moarraq kashi (mosaics), tiny pieces of tile of one colour.



Sheikh Lotfollah Mosque - Decoration of the portal side walls


Moarraq kashi was an expensive and time-consuming process and it was replaced by hafti rangi (seven colours), square tiles where up to seven colours were painted before they were fired. The overall tone of the tiles used at this mosque is less dark than the muqarnas mosaics, because of a larger use of green and white.



Sheikh Lotfollah Mosque - Dome


Round a flattened emisphere made of tiny bricks and covered with prawn-coloured wash runs a bold branching rose-tree inlaid in black and white. Seen from close to, the design has a hint of William Morris*, particularly in its thorns; but as a whole it is more formal than pre-raphaelite, more comparable to the design of a Genoese brocade immensely magnified. Robert Byron
The colours of the dome seem to vary with the time of the day, with best views in the late afternoon when the reflection of the sun subsides.
*William Morris (1834-96) was an English textile designer and a leading figure of the Arts and Crafts movement.



Sheikh Lotfollah Mosque - interior of the dome (you may wish to compare it with that of Shah Abbas Mosque)


If the outside is lyric, the inside is Augustan. Here a still shallower dome, about seventy feet in diameter, swims above a ring of sixteen windows. (..) The dome is inset with a network of lemon-shaped compartments, which increase in size as they descend from a formalised peacock at the apex and are surrounded by plain bricks; each is filled with a foliage pattern. Robert Byron



Sheikh Lotfollah Mosque - decoration of the prayer hall


Each part of the design, each plane, each repetition, each separate branch or blossom has its own sombre beauty. (..) I have never encountered splendour of this kind before. Other interiors came into my mind as I stood there, to compare it with: Versailles, or the porcelain rooms at Schonbrunn, or the Doge's Palace, or St. Peter's. All are rich; but none so rich. (..) It is a richness of light and surface, of pattern and colour only. The architectural form is unimportant. (..) This building stands at the opposite pole of architectural virtue to the small dome-chamber in the Friday Mosque. Robert Byron



(left) Entrance to Hakim Mosque; (centre) entrance to a small mosque at the Bazaar; (right) a mullah on his way to a mosque (he is reciting the Names of God and counting them on a "misbaha", a Muslim rosary of 33 or 99 beads)


The population of Gheisarieh Bazaar undertook their daily prayers and participated in ceremonies in a number of mosques and other religious buildings many of which date to the XVIIth century. Some of these mosques had a special relationship with one particular guild that either was its patron and/or had financed its construction. These mosques, apart from their religious function, also served as the administrative office of the said guild. They often had shops flanking their entrance which belonged to the mosque.



View of Imamzadeh Ismail Complex showing the Safavid dome of the mausoleum and the Seljuk minaret


This complex includes a Seljuk mosque with its truncated minaret dated XIth century to which Shah Abbas added a mausoleum with a grand dome to the back of the mosque. Expansion continued with the construction of porches, prayer halls and courtyards until 1632 under the patronage by Shah Safi, grandson of Shah Abbas. Some repairs are dated early XVIIIth century.



Imamzadeh Ismail Complex: (left) chaharsuq; (right) detail of the dome


Chaharsuq means crossroad market and it indicates a market place arranged around a square enclosure with a single gateway on each of its four sides. It was built by the patrons of the complex to provide it with a steady income: the rent which was paid by the shopkeepers. This practice of funding religious institutions or charities by building or donating assets is known as waqf (see another example of waqf at Damascus).



Madar Shah Medrese: (left) portal, a detail of which can be seen in the image used as background for this page; (right) a poster showing the interior of the medrese (it is not open to the public)


The construction of this very large complex comprising of mosque, caravanserai, medrese, bazaar and public bath began in 1704 under the patronage of Shah Hussein, the last Safavid ruler. The complex is named after the Shah's mother. As a matter of fact Hussein spent his time drinking and in other pleasures and the management of state affairs was entrusted to women, chiefly Maryam Begum, the harem matriarch.



Madar Shah Medrese - dome and minarets (almost identical to those of Shah Abbas Mosque)


Sir John Chardin, a Franco-British jeweller and traveller visited Isfahan in 1673 and described the power of the harem.
The power of mothers of Persian kings looms large when they [shahs] are at a young age. Abbas II's mother had much influence, which was absolute. They [queen-mothers] were in close contact with the prime minister and would help each other mutually. Saru Taqi [a prime minister] was the agent and confidant of the queen-mother; he would gather immense fortunes for her. She governed Persia at her will through her minister.
Journal du voiage du Chevalier Chardin en Perse et aux Indes orientales la Mer Noire et par la Colchide. Qui contient le voiage de Paris à Ispahan - Amsterdam - 1686.
What went on at Isfahan was not very different from what was going on at Constantinople where the valide (queen mothers) had a major say in state affairs.



Madar Shah Caravanserai, today a luxury hotel


The caravanserai forms the single largest component of the complex with two-storey arcades along its very large courtyard. Its size impressed many European travellers (you may wish to see an 1840 engraving by Eugène Flandin - it opens in another window). The caravanserai, with its rooms and stables, and the bazaar generated income for the upkeep and maintenance of the medrese and for the tuition and boarding costs of its students.
The lifestyle of Shah Hussein and his persecution of non-Shi'a subjects eventually undermined his power. A series of revolts broke out in many provinces and in particular in the easternmost ones, corresponding to today's Afghanistan. In 1722 rebels marched on Isfahan and laid siege to it. Hussein surrendered and acknowledged Mahmud Ghilzai, an Afghan leader, as the new Shah of Persia. Hussein was imprisoned and executed in 1726. He is believed to have spent his last night at Madar Shah Medrese.



Portals of modern mosques which have been designed following traditional patterns


In 1729 Isfahan was plundered by the troops of Nader Shah who eventually became the ruler of Persia and moved the capital to Mashhad.

Other Isfahan pages:
Seljuk Isfahan
Naqsh-e Jahan
Shah Abbas Mosque
Royal Palaces
Southern Quarters

Introduction
Achaemenid Pasargadae and Persepolis
Sassanid Bishapur
Achaemenid Tombs and Sassanid Reliefs near Persepolis
Zoroastrian survivors
Seljuk small towns (Ardestan, Zavareh and Abarquh)
XIVth century Yazd
XVIIIth century Shiraz
Qajar Kashan
Post Scriptum
On the Road
An excursion to Abyaneh
Persian Roses
People of Iran







SEE THESE OTHER EXHIBITIONS (for a full list see my detailed index).