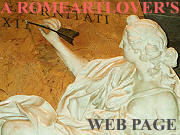 What's New!

Detailed Sitemap


All images © by Roberto Piperno, owner of the domain. Write to romapip@quipo.it. Text edited by Rosamie Moore.
Page added in March 2015.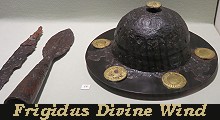 - Chioggia - Living on the Lagoon
(Longobard weapons at Museo Archeologico di Cividale)

You may wish to read an introduction to this section first.



Views of Chioggia: (above) northern side seen from the Pellestrina-Chioggia ferry; (below) eastern side seen from Sottomarina (aka Chioggia Minore), which is situated opposite Chioggia on a narrow strip of land between the lagoon and the Adriatic Sea


The panorama of the southern lagoon is best seen in a voyage to Chioggia, the quaint and historic little city that lies twenty miles away from Venice. (..) Chioggia itself is hardly more than a village, a Venice in miniature, with canals and boats and bridges.
William Dean Howells - Venetian Life - 1867



"Murazzi" at Sottomarina: (left) side towards the lagoon; (right-above) inscription indicating the length in Venetian paces of the section of dam built during 1764 (the whole dam was built in 1744-82); (right-below) sloping side towards the sea


A precious day from beginning to end! I visited Pellestrina and Chioggia, where the Republic is constructing huge defences against the sea called "i murazzi". These are built of uncemented stone blocks and are intended to protect the Lido in times of storm. (..) They are constructed as follows. First come some steep steps, then a gently inclined surface, then another step, then another incline and finally a vertical wall with a coping on top. The rising sea climbs the steps and slopes and only when exceptionally violent does it break against the wall and its coping.
J. W. Goethe - Italian Journey: Venice, October 9, 1786 (translation by W. H. Auden and Elizabeth Mayer)
The giant sea-wall, built there by the Republic in her decline, is a work of Roman grandeur, which impresses you more deeply than any other monument of the past with a sense of her former industrial and commercial greatness. W. D. Howells



(above) Pellestrina at the southern end of the island by the same name; (below) MOSE mobile gates under construction at Bocca di Pellestrina; (inset) small map (from a fresco at Galleria delle Mappe Geografiche in the corridors of Palazzo del Belvedere in Rome): 1) Chioggia; 2) Pellestrina; 3) Sottomarina


Two very long barrier islands (Lido and Pellestrina) separate the Lagoon of Venice from the Adriatic Sea. Three narrows which are called bocche (mouths) allow the interchange of water between the sea and the lagoon. The murazzi ensured that sea water did not make its way across the islands into the lagoon. MOSE, a system of mobile gates, is under construction at the three narrows to complement the protection given by the murazzi by completely sealing off the lagoon during weather conditions which could cause exceptional tides.



Views of Forte S. Felice and Ottagono Ca' Roman (in the lower right corner)


The Venetians did not limit themselves to protecting the lagoon from natural disasters. In 1379 the Genoese fleet, after having defeated the Venetian one off the harbour of Pola, entered the lagoon at Bocca di Pellestrina. The Genoese stormed Pellestrina and Sottomarina and laid siege to Chioggia which they seized on August 16. Venice itself was at risk of falling to its arch-enemy, but its citizens managed to launch a counterattack and in June 1380 they were able to dislodge the Genoese from Chioggia. The Senate decided that Venice should not be in such danger again and Bocca di Pellegrina was fortified by building two small castles. In 1538 the southern one (near Sottomarina) was replaced by Forte San Felice, a state-of-the-art fortress. In addition cannon were placed on some fortified small islets inside the lagoon which are known as ottagoni, because of their octagonal shape. You may wish to see the fortifications built by the Venetians to protect the Lagoon of Santamaura in Greece.



Forte S. Felice: (left) bastion; (right) gate designed by Andrea Tirali in 1702-04


The fortress was part of an overall defensive system which included Forte S. Andrea and Forte S. Nicoḷ at the northern entrance to the lagoon. In 1537 the Ottomans vainly tried to seize Corfu, but in the following year they defeated a Christian fleet at Preveza, so the Senate was worried they could plan a raid on Venice. In those same years fears of an Ottoman attack led Pope Paul III to strengthen the fortifications of Rome.



Forte S. Felice: defaced Winged Lion and inscription without its bronze letters


Forte S. Felice and the other fortifications of the Lagoon were never put to a real test because the Ottomans did not dare to attack Venice. The Republic died of "old age" in 1797 when its territory was occupied by the French and its symbols were defaced. Forte S. Felice was upgraded to new warfare standards by the Austrians in 1835 and it continued to be used by the military until after WWII. Today it is abandoned while a decision on its future use is pending.



Canal Vena with the 1895 bell tower of S. Giacomo: (left) northern section; (right) southern section


Chioggia has a roughly rectangular shape and it is divided in half by Canal Vena. Its urban layout is mainly man made and Canal Vena was dredged to allow boats to cross it even at low tide. The buildings of Chioggia stand on wood pilings driven into the mud. Vena means vein and in Italian it can be used to indicate a small flow of water.



(left) Southern entrance to the town with a typical two-masted fishing boat ("bragozzo") in the foreground; (right) Porta di S. Maria (1530) and behind it Corso del Popolo, the main street of Chioggia


Though there is no horse to be seen in the central streets of Chioggia, peasants' teams penetrate her borders by means of a long bridge from the mainland. W. D. Howells
The bridge is the final leg of a road which links Chioggia to Padua. It has been enlarged to allow cars to enter the town and the walls at the sides of Porta di S. Maria have been pulled down for the same reason. A new bridge links Chioggia to Sottomarina thus allowing its inhabitants to enjoy the hazards of modern life, at least in the section of the town between the two bridges.



Ponte di Vigo at the northern end of Canal Vena and deconsecrated Chiesa della Santa Croce behind it


Ponte di Vigo is the only monumental bridge of Chioggia and it is situated near the landing point of the ferry. It was built in 1685 to replace a wooden one and in 1762 it was decorated with marbles and small statues. When people eating a slice of pizza are not sitting on its steps it fully shows its neat yet elegant design.



Canal San Domenico


Reaching Grado we entered a straight canal between embankments which led to the port, a tolerably capacious basin full of gaily-painted boats from Chioggia.
Sir Thomas Graham Jackson - Dalmatia, the Quarnero and Istria - 1887
The men throughout the islands of Venice are almost as handsome as the women; I have never seen so many good-looking rascals. At Burano and Chioggia they sit mending their nets, or lounge at the street corners, where conversation is always high-pitched, or clamour to you to take a boat; and everywhere they decorate the scene with their splendid colour - cheeks and throats as richly brown as the sails of their fishing-smacks.
Henry James - Italian Hours - 1882
Chioggia is still a major fishing port and facilities for modern boats have been built on the eastern side of Canal San Domenico.



(left) A fishing boat returning to Chioggia followed by seagulls; (right) "cappesante" (scallops) on sale at the fish market


Broeto ciozoto is an excellent fish soup served at several Chioggia restaurants for the same price as the cost of a pizza in Venice.
The image used as background for this page shows three bragozzi, the fishing boats for which Chioggia and its fishermen were renowned.

Go to see the Churches of Chioggia or its Other Monuments or move to:
Introductory page
Roman Aquileia - Main Monuments
Roman Aquileia - Tombs and Mosaics
Early Christian Aquileia
Medieval Aquileia
Roman and Medieval Cividale del Friuli
Venetian Cividale del Friuli
Grado
Palmanova
Roman and Byzantine Parenzo (Porec)
Medieval and Venetian Parenzo (Porec)
Roman Pola (Pula)
Medieval and Venetian Pola (Pula): Churches
Venetian Pola (Pula): Other Monuments
Pomposa
Roman Ravenna
Ostrogothic Ravenna
Byzantine Ravenna: S. Apollinare in Classe
Byzantine Ravenna: S. Vitale
Byzantine Ravenna: Other Monuments
Medieval Ravenna
Venetian and Papal Ravenna: Walls and Gates
Venetian and Papal Ravenna: Churches
Venetian and Papal Ravenna: Other Monuments
Rovigno (Rovinj)
Roman and Medieval Trieste
Modern Trieste







SEE THESE OTHER EXHIBITIONS (for a full list see my detailed index).