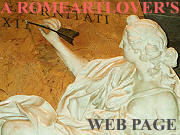 What's New!

Detailed Sitemap


All images © by Roberto Piperno, owner of the domain. Write to romapip@quipo.it. Text edited by Rosamie Moore.
Page revised in January 2011.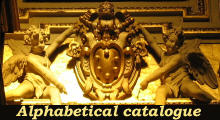 of the Papal Coats of Arms
(coat of arms of Pope Leo XI in S. Maria in Trastevere)

An alphabetical list of the popes whose coats of arms you can find in this website; the list includes all the Popes from 1417 (Pope Martin V) to 2011 (Pope Benedict XVI) and some of the previous centuries:



A; B; C; E; F; G; H; I; J; L; M; N; P; S; U.


The links at the words coat of arms or heraldic symbols open in another window and show a photo of a papal coat of arms on a monument. The links to a town/church/palace lead to a page where these are shown (if in Rome together with an XVIIIth century etching by Giuseppe Vasi). The location of the coats of arms of the catalogue can be seen by clicking 1852 Map of Rome. The link of the icon in the last column opens in another window and it shows a small .jpg file with the formal coat of arms of the pope. A link at the pope's name (first column) leads to a special page devoted to his coats of arms.
A similar list is available in chronological order.




The image used as background for this page shows S. Ivo alla Sapienza.



SEE THESE OTHER PAGES (or return to the introductory page)