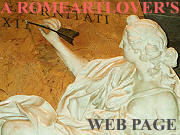 What's New!

Detailed Sitemap


All images © by Roberto Piperno, owner of the domain. Write to romapip@quipo.it. Text edited by Rosamie Moore.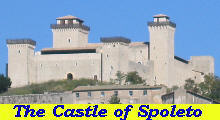 THE CASTLE OF SPOLETO




Spoleto, a Roman colony and subsequently a Lombard Duchy, is built on a hill at the top of which (the Acropolis) Theodoric the Great (454-526) erected a Castle. This was strengthened with towers by Cardinal Albornoz in his reconquest of the Papal State in the XIVth century. In 1860 Major O'Reilly with 300 Irish Guards gallantly fought the Piedmontese. The Castle was used as a prison until very recent years. A careful restoration is bringing back the original structure and many paintings. Visits are restricted for safety reasons, but the lucky ones get rewarded by a number of coats of arms!
See a page on the town.


The Gates


Three gates protect the Castle from intrusion. On the outer one the coat of arms of Pope Clement VIII over an inscription celebrating his annexation of Ferrara to the Papal State in 1598, while the inner one shows the older coats of arms of Alexander VI and Julius II.

The Well

The inner court has been brought back to its original state and the XVth century well attracts immediately the visitor's attention. The coat of arms is of Nicholas V. The courtyard was restored by Pius V.

The Frescoes on the ground floor

On the ground floor two large frescoes of coats of arms: Nicholas V in a very Florentine style decoration and Paul II.

The Frescoes on the upper floor

The upper floor is decorated with many coats of arms, which show the change in style. First (top left) a detail of the coat of arms of Pope Urban VIII which shows the bees around the sun (see The Sun of the Barberini). Then the peak of the Baroque period with the mountains of Pope Alexander VII incredibly oscillating (top right). The coat of arms of Pope Clement X (lower part right) is still reflecting the Baroque style, while the coat of arms of Pope Benedict XIV (lower part left), although based on a Baroque pattern, is very rigid and it anticipates the NeoClassical period.

The Hall

The main hall of the castle has a very large fresco of the coat of arms of Pope Gregory XIV. That's very surprising, as he was Pope for a very short while.








SEE THESE OTHER EXHIBITIONS (for a full list see my Detailed Index)