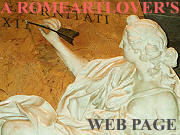 What's New!

Detailed Sitemap


All images © by Roberto Piperno, owner of the domain. Write to romapip@quipo.it. Text edited by Rosamie Moore.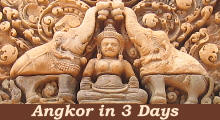 Day three - page two
(relief in Banteay Srey)

Prasat Kravan



Overall view


Prasat Kravan is one of the oldest monuments of Angkor. It is thought to have been built in 921 by Mahidharavarman, a high officer at the royal court. It consists of five small temples placed in a row above a slightly raised platform: this design is unique in Angkor. It was dedicated to Vishnu.



Central temple and reliefs inside it


The temples show a skilled use of brickwork to design pillars and lintels without coloured stones: unlike the monuments which came after, the decoration is at the interior of the buildings, even though these can accommodate only a few persons at the same time: narrative bas-reliefs portray aspects (central temple) of the life of Vishnu and (far right temple) of his wife Lakshmi (or rather Vishnu in the feminine role of creator).



Reliefs inside the right temple


Phnom Bakheng



Angkor is not just for tourists


Climbing up the steep stairs of Phnom Bakheng at sunset is a must for the visitors of Angkor: it is also very dangerous for the people who do it and for the monument itself. The ancient stones show already signs of being worn out. The temple was dedicated to Shiva and, in line with the Hindu tradition, a statue of Nandi, the bull which Shiva rides, was placed at the entrance of the shrine. Women visit images of Nandi, bringing floral offerings, and touch the stone. Their prayers are for fertility.



Floral decorations and devata


Phnom Bakheng was built at the end of the IXth century when the Khmer Empire was at the beginning of its expansion and yet the decoration is very elaborate and mature: this is regarded as evidence of close links with India.



Phnom Bakheng is located at the top of a hill


The reason for the popularity of Phnom Bakheng lies in its being built atop a (small) hill at the centre of the archaeological area: Phnom Bakheng is in a way what Piazzale Michelangelo is to Florence. According to literature at sunset the light for viewing Angkor Vat should be perfect: however considering that even in the dry season there is a lot of humidity I doubt the view is often much better than that shown in the image below (taken at sunset on a late November day).



View towards Angkor Vat




Angkor in 3 Days


| | |
| --- | --- |
| Day One - Page One | Introduction - Angkor Thom (Southern Gate and Terraces) |
| Day One - Page Two | Angkor Thom (Temples) |
| Day One - Page Three | Angkor Vat |
| Day Two - Page One | Prah Khan - Ta Som |
| Day Two - Page Two | Banteay Srey |
| Day Two - Page Three | East Mebon - Pre Rup |
| Day Three - Page One | Baksei Chamkrong - Ta Prohm |
| Day Three - Page Two | Prasat Kravan - Phnom Bakheng |
| Day Three - Page Three | An excursion to Tonle Sap |



SEE THESE OTHER EXHIBITIONS (for a full list see my detailed list).