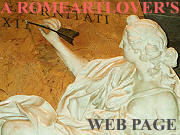 What's New!

Detailed Sitemap


All images © by Roberto Piperno, owner of the domain. Write to romapip@quipo.it. Text edited by Rosamie Moore.
Page added in October 2014.
- Trał - Churches
(a sphinx at Diocletian's Mausoleum)

You may wish to read an introduction to this section or a page on the town first.



St. John the Baptist Church


The church of S. Giovanni Battista, which is now roofless though otherwise well preserved, is by far the most interesting church after the duomo. In its arcaded cornices, sunk dentil courses, and chain-mail ornaments it corresponds with the details of the duomo so closely that there can be little doubt of its being coeval with it. It has a bell-cot for three bells, approached by an external staircase, and in the interior are some interesting details.
Sir Thomas Graham Jackson - Dalmatia, the Quarnero and Istria - 1887
Sir Thomas Graham Jackson (1835-1924) was one of the leading architects of his time. He visited Trał in 1885 and he wrote an interesting account of its monuments.



St. John the Baptist Church: works of art from lost/deconsecrated churches (another one is shown in the image used as background for this page)


Today the (deconsecrated) church houses a small museum with statues and reliefs of different historical periods. The population of Trał is likely to have never exceeded 5,000, but it was a bishopric see and therefore the main religious orders had monasteries and nunneries with churches there. The Bishops promoted the founding of religious brotherhoods who built small churches for their meetings. The diocese was suppressed in 1828 and by the time Jackson visited Trał, many churches were deconsecrated.



(left) Church of the Dominican Convent; (right) 1605 tombstone of Francesco Giordan from Padua with a rather rare Italian inscription, because Latin was the language used in such cases


S. Domenico was built in the fourteenth century by Bitcula, sister of Agostino Casotti, a native of Trał, who was successively bishop of Zagabria (Zagreb, today the capital of the Republic of Croatia) and Lucera in Apulia (Southern Italy), and was canonized by Pope John XXII (1313-1334). T. G. Jackson
The first Dominican convent in Dalmatia was founded at Ragusa (today's Dubrovnik) in 1225. Other convents were soon founded in other towns of the region including Trał.



Church of the Dominican Convent: relief showing the Virgin Mary between Blessed Bishop Agostino Casotti and St. Mary Magdalen


Over the door is a rude (primitive) sculpture of the Virgin and Child with figures of Agostino and his sister Bitcula, and an inscription DnA BITCVLA • SOROR • HS • SCI • AVGVSTINI, which proves the church to be later than 1323 when Agostino died. T. G. Jackson
Bitcula was portrayed kneeling at the feet of his brother. Agostino Casotti was a Dominican friar before being appointed Bishop of Zagreb. He spent five years at the Papal Court in Avignon. His assignment to Lucera was a very challenging one because the town had been inhabited by Muslims (deported from Sicily) for eighty years until they were forced to convert in 1300.
According to the website of the Croatian Dominican Province: In only a year he had done much, so much so that the remaining Muslim population decided they wanted him dead. He was killed by a Saracen that smashed his head with an iron shaft. Italian sources however challenge the traditional version which blames a Saracen for the killing of Bishop Casotti, because the fact is not mentioned in the letter written to Pope John XXII to promote Casotti's canonization by the Angevin rulers of Apulia.



(left) Interior of St. Nicholas' in the Benedictine nunnery; (right) Venetian altar in a modernized church


S. Nicolo is a Benedictine nunnery founded in 1064 by Giovanni Orsini for ladies of noble descent, and it is still occupied by nuns of that order. Slight traces only remain of its original architecture. There is a pretty little cloistered court with capitals of a rudely Corinthianizing type which are early, but the rest of the building has windows of Venetian and still later work. T. G. Jackson
Similar to most architects and art historians of his time Jackson had very little interest in works of art and decorations of the XVIIth and XVIIIth centuries. The small Benedictine church has not gained by the colours used in a recent repainting. In other churches old works of art are now surrounded by cheap additions.



Benedictine Nunnery: XVth century polyptych attributed to a local painter


The Benedictine nuns have arranged a small, but very interesting museum in some halls of the nunnery with exhibits showing the presence of ancient Greeks and Romans in the region (see an image in the introductory page). In addition they have a number of good paintings, some of which came from Venice and others were made locally.



Benedictine Nunnery: (left) Nicola Grassi - St. Lucy (XVIIIth century); (right) Antonio Zuccaro - Abbess Scolastica - 1888


Well into the XIXth century the wealthiest families of Trał dealt with the issue of passing their patrimony to the eldest son by not marrying most of the other children. Daughters entered nunneries and their wealthy parents did their most to make them become abbesses or at least live in a nice environment. This explains why the halls of the nunnery were decorated with expensive paintings, including portraits of the abbesses.



(left) Chapel of St. Sebastian; (centre) Oratory of All Saints (deconsecrated); (right) bell tower of a church lost during WWII


The oldest church in Trał of which any traces remain was that of S. Maria in Piazza, which dated perhaps from the eighth century. It was round, and had a portico which opened upon the loggia. It was afterwards turned into the church of S. Sebastiano, and still more recently raised and converted into the clock-tower (see page one). The vault of S. Maria was only destroyed as lately as January, 1851. I saw and talked with the person who owned and destroyed it, and he described the cupola as quite perfect up to the time of its demolition. T. G. Jackson
Already at the time of Jackson's visit to Trał it was not easy to gather information on minor churches which had been deconsecrated. This is even more difficult today.



Details of the decoration of: (above) Cathedral (under the main portal); (middle) St. Sebastian's (in the interior); (below) St. Barbara's (lintel of the portal)


Move to:
Introductory page
Spalato - Ancient Walls
Spalato - Ancient Town
Spalato - Mausoleum
Spalato - Fortifications
Spalato - Cathedral
Spalato - Churches
Spalato - Other Buildings
Salona
Clissa
Trał - the Town
Trał - Cathedral
Sebenico - the Town
Sebenico - Cathedral
Sebenico - Palaces and Churches







SEE THESE OTHER EXHIBITIONS (for a full list see my detailed index).