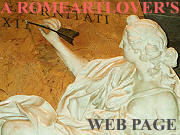 What's New!

Detailed Sitemap


All images © by Roberto Piperno, owner of the domain. Write to romapip@quipo.it. Text edited by Rosamie Moore.
Page revised in May 2010 (photos taken in 2002).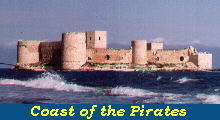 Mamure Kalesi
(Kizkalesi)

Anamour castle (..) stands on the edge of the sea, about six miles to the eastward of the cape; and in its general appearance, strongly resembled some of the antient castles of Great Britain. Its keep or citadel, is placed on a small rocky eminence, and commands two open courts which are surrounded by a chain of towers of all shapes - dodecagonal, octagonal, square, triangular, round, and half round.
Francis Beaufort, Captain of HMS Frederikssteen, a frigate of 32 guns: Karamania; or a brief description of the South Coast of Asia Minor, and of the Remains of Antiquity collected during a survey of that coast, under the orders of the Lords Commissioners of the Admiralty, in the years 1811 & 1812 - Published in 1817



Eastern side


Cape Anamur is the southernmost point of the Anatolian peninsula; on a fair day it is possible to see Cyprus from this cape and to control the passage of all ships sailing between Pamphylia (the region of today's Antalya) and Cilicia. A few miles to the east of the cape, the Romans built a small castle on a rock projecting into the sea; the castle was enlarged by the Crusaders and later on, at the beginning of the XIIIth century, it was entirely rebuilt by the Karamanid Emir of Laranda (today's Karaman). It was strengthened by the Ottomans, who added a fine tower on its eastern side.



View from the great eastern tower


Walls inside the fortress divided it into three parts, in order to allow further resistance in case the enemy had gained access to its interior.



Western side


The view from the western side shows the rock upon which the fortress was built initially.



Northern side


A deep moat completed the fortifications of the fortress. The Emir of Laranda put the following inscription above the only entrance to the castle: I brought the water, I rebuilt the castle.



(left) Sea walls; (right) mosque of the fortress


The fortress housed a small town with fountains, mosques and hammams.







Move along the Coast of the Pirates:
Introduction and Alanya
Anemurium
Silifke
Olba (UzuncaburÁ)
Korykos and Kizkalesi
Elaiussa
Map of Turkey with all the locations covered in this website.

SEE THESE OTHER EXHIBITIONS (for a full list see my detailed index).