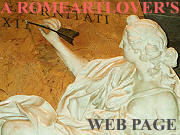 What's New!

Detailed Sitemap


All images © by Roberto Piperno, owner of the domain. Write to romapip@quipo.it. Text edited by Rosamie Moore.
Page added in January 2013.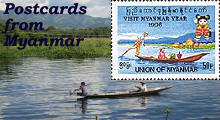 - Introduction
(Inle Lake)

In recent years the government of Myanmar (aka Burma) has taken steps to reduce the political isolation of the country and improve its economy. Tourism has been identified as a key resource and although Myanmar is far from receiving 20,000,000 foreign travellers per year as does neighbouring Thailand, five-star hotels and resorts at key tourist sites are fully booked by travel agents.



1900 "The Times" Atlas map of Burma: blue dots indicate locations from which postcards were sent


Unfortunately travel agents have already learnt the worst practices of their business. In a November 2012 tour of the country organized by Kipling Tours the focus of the local guide was on leading the group to shopping centres, factories, "museums" (which were just shops), money changers and other business enterprises.
This section is named Postcards from Myanmar because the tour did not allow for a proper visit to the most interesting monuments, in particular to those of Bagan, the main archaeological site of the country.
You may wish to read Wikipedia's entry for Myanmar/Burma - it opens in a separate page.



Rangoon (today's Yangon): skyline from Kandawgyi Lake with Shwedagon Pagoda at the centre




Bagan: view from Dhammayazika Pagoda




Bagan: Dhammayazika Pagoda (the image used as background for this page shows the dome of another pagoda at Bagan)




Votive temples at Indein in the Inle Lake region




Nuns praying at Mandalay Hill Pagoda




Inle Lake (a vision of Heaven)




A herdsman on the road to Heho, the airport of the Inle Lake region (a scene of ordinary life)




Mandalay's River Harbour (a vision of Hell)




(left) Bagan: kitchen of a small restaurant; (right) Rangoon: a sugar cane juice seller


Move to:
Bagan
Inle Lake
Inle Lake - Phaung Daw U Pagoda Festival
Mandalay
Yangon (Rangoon)







SEE THESE OTHER EXHIBITIONS (for a full list see my detailed index).