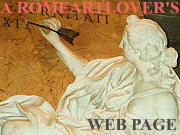 What's New!

Detailed Sitemap


All images © by Roberto Piperno, owner of the domain. Write to romapip@quipo.it. Text edited by Rosamie Moore.
Page revised in January 2011.
History and Art in the Coats of Arms of the Popes
This section was first developed in 1997; it was aimed at providing visitors with an opportunity to learn about the monuments of Modern Rome through the coats of arms and the heraldic symbols of the Popes.


Use this tool to search all the pages of this website:







LINKS

F. Velde's Heraldry site


Bill Thayer's Roman Links and Encyclopaedia


The Official Vatican Site


Italy On Line


Casali - Old Prints


H. Schumann's World of Rare Books


A new way to find a house in Italy

Have your name in the Hall of Fame! Complete the following sentence:




The image shows a detail of the floor of ....





The image used as background for this page shows S. Ivo alla Sapienza.



AKNOWLEDGEMENT


Let me now introduce my nephew to whom I owe the encouragement and basic HTML advice which made me join the net.

Marco at Acqua Paola in 1997