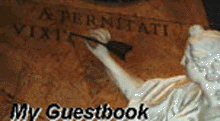 Welcome to my 2000 Guestbook!
My Guestbook
View my 1999 Guestbook
View my 1997/1998 Guestbook


Loredana Campo - 12/24/00 21:38:58
My Email:angde@libero.it

Comments:
Siamo tutti insieme quattro tuoi nipoti Baresi a festeggiare il Natale insieme ai rispettivi mariti e figli Un grande augurone anche a te ed a tutta la famiglia. Loredana, Mariella, Patrizia, Roberta.


ELIOT R. GARIBALDI - 12/19/00 20:19:59
My URL:http://CORSO
My Email:NONE

Comments:
I AM A DESENDENT OF GIUSEPPI GARIBALDI BUT I STEEL LOKING FOR MY ANCESTORS

Lynette Cornog - 12/09/00 18:37:54
My Email:lanara_27

Comments:
Great Work! Thanks for the images and knowledge; it was nice seeing 'home' again. Lynette

Roberto Ciampoli - 11/26/00 15:01:31
My Email:ciampoli@tin.it
Preferred picture: Palazzo Corsini

Comments:
Thanks you. You help people like me to find new enthusiasm discoverieng hidden aspects of my very first love: Rome

Danny Wong - 11/18/00 15:36:41

Comments:
Awesome Site!

Mandee - 11/02/00 23:11:13
My Email:cutekiss@excite.com

Comments:
Thank you for having the article on "Pasquino." I had a report to do on four things in Italy and I found this and it was pretty difficult to find info. on this. But it is very humorus and I enjoyed your article alot.

maurice owen - 10/25/00 17:03:42

Comments:
many thanks

Richard Textor - 10/19/00 21:04:55
My Email:rjtextor@erols.com

Comments:
Thank you for your information on my etching. Richard Textor

Patricia Moran - 09/29/00 18:29:26
My Email:PalLou68@aol.com
Preferred picture: All of them

Comments:
Lovely!!!!

| | |
| --- | --- |
| - 08/30/00 18:06:20 | Comments: |


peter lussenheide - 07/07/00 00:06:47
My Email:chronosroma@libero.it

Comments:
non è possibile di visualizzare gli immagini peccato peter lussenheide

Nestor Sander - 04/23/00 04:27:45
My URL:http://home.inreach.com/rotsen/
My Email:rotsen@inreach.com
Preferred picture: Etchings of Piazza Navona

Comments:
You derserve the highest praise for assembling the great number of old and recent illustrations of much of Rome's heritage. N. J. Sander D. S

James Hirschfeld - 04/21/00 11:54:05
My Email:jwph@sussex.ac.uk

Comments:
I was very pleased to find your website to give me more information on Vasi's view, as I have just bought a copy of each of the 12 panels!

Edward McDonagh - 03/19/00 03:05:11
My Email:emcdonagh@home.com

Comments:
I acquired two large Vasi etchings some years ago. One shows the interior of S. Pietro, the other is of Piazza S. Pietro itself. I understand there is one more view of S. Pietro in that series. I rarely find any infomation regarding Vasi, so I thank you for your efforts.

Paolo Rennis - 03/07/00 18:20:09
Preferred picture: dinner

Comments:
no comment

Go to my Home Page on Baroque Rome or to my Home Page on Rome in the footsteps of an XVIIIth century traveller.

See the latest additions!