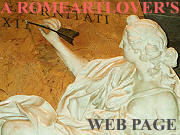 What's New!

Detailed Sitemap


All images © by Roberto Piperno, owner of the domain. Write to romapip@quipo.it. Text edited by Rosamie Moore.
Page added in July 2007.
8:14 from Termini
Everyday a train leaves Termini at 8:14; first stop: Orte; second stop Narni; third stop Terni; fourth stop Spoleto; fifth stop Trevi; sixth stop Foligno; seventh stop Spello; eighth stop Assisi; last stop ...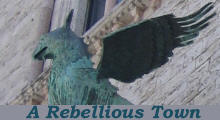 Perugia - part three: walking about

The character of Perugia



Wandering about near Via della Cupa


Perugia is characterized by many vaults joining together almost all the buildings of its medieval quarters: they reduced the impact of earthquakes which are frequent in the region: another aspect of the town is that the use of brickwork is remarkable while the other towns shown in this Umbrian journey have a stonier aspect. Its narrow streets offer here and there views of the countryside.



The skyline of Perugia is a historical summary (left to right): Torre degli Sciri; S. Pietro; S. Giuliana; S. Maria Nuova


During the XIIth century each major family lived in a block of houses protected by a tower: of the many towers which once existed only one is left, probably because it was converted into a granary.
The bell tower of S. Pietro was built in different periods: early medieval, Gothic and Renaissance styles were joined together to yield a very harmonious result.
S. Giuliana was the church of a monastery located outside the walls and this explains why the bell tower has almost the aspect of a fortification: it also reminds the viewer of the architecture of northern Europe as the church was built by the Cistercians (link to Cistercians in Wikipedia).
The bell tower of S. Maria Nuova was built in 1644 in a Late Renaissance style similar to that of S. Maria degli Angeli near Assisi.



(left) Pozzo Etrusco and in the background Chiesa dell'Orazione e Morte; (right) fountain at Fontivegge


In the XIIIth century an aqueduct provided Perugia with an ample supply of fresh water: the authorities however did not neglect the maintenance of the ancient Etruscan wells, so that the town could rely on an alternate source in case an enemy cut the aqueduct. Umbria is a region with plenty of water and the landscapes in the paintings by Raphael and il Perugino show rivers, lakes and waterfalls. A local spring supplied this elegant XVIIth century countryside fountain: although Augustus set fire to Perugia (see page one), the town was (and is) very proud of being associated with him and the fountain bears the inscription Augusta Perusia.



(left) Via Bagliona; (right) Palazzo dei Cavalieri di Rodi


Antonio da Sangallo the Younger built Rocca Paolina (see page one) above the houses of the Baglioni in literal terms: the buildings were not pulled down, but were used to support the first platform of the fortress. In 1859 Perugia revolted against the pope and set up a local government in the hope of joining the Kingdom of Italy which was in the process of coming into existence. Pope Pius IX sent Swiss troops who easily occupied the town: the plundering and killings which followed became known as the slaughter of Perugia. In 1860 Perugia was occupied by Italian troops and the inhabitants with their own hands pulled down Rocca Paolina, the symbol of papal rule: almost all the coats of arms of the popes were erased from the monuments of the town, including that of Pope Sixtus IV on the façade of Casa dei Cavalieri di Rodi. However the bronze statue of Pope Julius III was spared because that pope restored the privileges of Perugia, after Pope Paul III cancelled them.
In recent times a careful restoration of the underground passages of Rocca Paolina provided Perugia with Via Bagliona, an extraordinary walk through medieval buildings which were thought to be lost.



1) Renaissance frieze Corso Garibaldi; 2) - 3) S. Angelo della Pace: inscription still bearing the name of Pope Paul III and decoration of the entrance; 4) Fonte Lomellina


Churches and Palaces



S. Angelo


S. Angelo is Perugia's oldest church and is located on a charming site near Cassero di S. Angelo (see page one). It was built in the late Vth century making use of columns and other material taken from ancient temples: the variety of the column stones (some of which came from Greece and Egypt) is an indication of the wealth of Perugia during the Roman rule: the circular interior reminds the viewer of S. Costanza and of S. Stefano Rotondo.



(left) S. Francesco al Prato; (right) S. Fortunato


The church dedicated to St. Francis is one of the first built by the members of his order. Work started in 1230, just four years after the saint's death: the church was built outside the ancient walls on a meadow (prato) at the edge of the hill: the location proved not to be carefully chosen because earthquakes led to the collapse of the ceiling, so that only the external wall did not fall due to its strengthened structure.
S. Fortunato is another church built approximately during the same period and again outside the ancient walls, an indication of the growth of Perugia during the XIIth and XIIIth century.



(left) S. Agostino; (right) S. Severo


Perugia due to its geographic position received cultural inputs from many parts of Italy: the lower part of the decoration of S. Agostino's façade is based on the use of pink and white stones which prevailed in nearby Assisi and other towns of the Umbrian Valley. The upper part is more similar to churches of northern Italy where brickwork was used to design pillars and other architectural patterns. This method was applied also in S. Severo. The ancient Romans first made use of brickwork to decorate some funerary monuments along Via Latina and Via Appia (Sepolcro di Annia Regillia).



S. Bernardino


The influence of Tuscan Early Renaissance in Perugia is evident in this small church near S. Francesco al Prato which was designed and decorated by Agostino di Duccio in 1461. He was a Florentine artist who was exiled from his city and who worked in Rimini with Leon Battista Alberti on the decoration of Tempio Malatestiano. Alberti, due to his works and his writings, can be regarded as the founder of Renaissance architecture.



S. Bernardino: details of the decoration (see also the image used as background for this page)


Medieval churches did not bear inscriptions, but Alberti who had extensively studied the ancient Roman inscriptions placed an inscription at the entrance of Tempio Malatestiano and Agostino di Duccio did the same at S. Bernardino; he was allowed to sign his work, an indication of the growing role of the artists in society.
S. Bernardino, although belonging to the Early Renaissance points to Mannerism, the last phase of Renaissance which was characterized by an excess of decoration.



(left) S. Maria della Luce; (centre) S. Luca; (right) S. Caterina


In the XVIth century it was the turn of Rome to influence the design of churches in Perugia: the use of travertine, the typical stone of the Eternal City, is an indication of this change. Travertine however was not available locally and so when the church had a rather wide façade and the budget did not allow for bringing the stone from Rome, architects had to content themselves with traditional brickwork.



(left) Palazzo Donini; (right) Palazzo Gallenga Stuart


The main palaces belonging to public institutions (town hall, tribunals, university) are located in the two main squares. Some fine palaces belonging to wealthy local families were built in the XVIIIth century: Palazzo Donini has a rather severe appearance, while Palazzo Gallenga is a more lively work by Francesco Bianchi, a Roman architect who designed the monastery near S. Maria in Monterone.



* * *


Move to page one (the walls), page two (the main squares) or buy a ticket to Rome: first stop Assisi.



View of Assisi from Perugia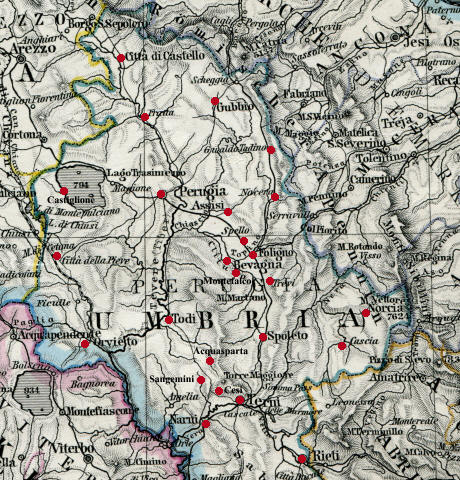 1864 clickable map of Umbria