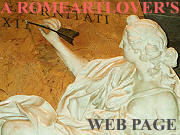 What's New!

Detailed Sitemap


All images © by Roberto Piperno, owner of the domain. Write to romapip@quipo.it. Text edited by Rosamie Moore.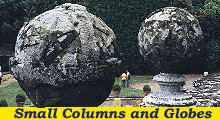 SMALL COLUMNS AND GLOBES
(globes in Villa Aldobrandini in Frascati)

A trace of the past is sometimes hidden in small decorative elements of a monument.

Clement VIII

Pope Clement VIII (Ippolito Aldobrandini) made a lot of use of the theme of his coat of arms (a stripe and a star) to decorate buildings he erected or restored (see S. Cesareo in Palazio or Palazzo di Campidoglio).
The balustrades of Villa Aldobrandini in Rome have little globes showing the family symbols.




Clement VIII completed the decoration of the southern nave of S. Pietro in Vaticano and outside the Basilica one can find small columns with the family symbols.




The large and imposing Villa Aldobrandini in Frascati is all decorated with stripes and stars, even the garden shows them.




For a more extensive research on Clement VIII see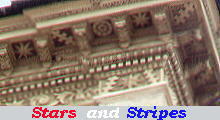 Paul V

The eagles and dragons of Pope Paul V (Camillo Borghese) were particularly suitable for marking the pope's large enterprises. Here below you see small columns at the entrance of Palazzo del Quirinale.
The monument which still reminds Romans of the pope is Acqua Paola celebrating the aqueduct bringing water to the western part of Rome. The fountain decoration is complemented by elegant small columns with the eagle and the dragon. Pope Alexander VII who built steps to allow easier access to the fountain had a similar little column with his mountains.




Urban VIII

The industrious bees of Pope Urban VIII (Maffeo Barberini) were used by Bernini in many buildings and statues he erected for the pope.
They also appear on the globes at the entrance of Villa Barberini in Castel Gandolfo.




Innocent X

The doves of Pope Innocent X (Giovan Battista Pamphilj) rest on the small columns at the entrance of Palazzo Pamphilj in Piazza Navona.




Innocent XIII

Not all the popes had symbols suitable for decoration, but the coat of arms of Pope Innocent XIII (Michelangelo Conti) was made of a chequered eagle which made it clearly identifiable. Unfortunately the pope did not have time enough to mark with his eagle many accomplishments. The lack of many eagles is however compensated by the fact that they can be found at the start of the Spanish Steps and around the obelisk of Piazza S. Pietro.




Benedict XIV

Pope Benedict XIV (Prospero Lambertini) had a very simple coat of arms, made of vertical red and yellow stripes. The little columns outside SS. Pietro e Marcellino are a reminder of his financing the erection of the church, but maybe today someone can believe the stripes are there to make sitting on the column uncomfortable!










SEE THESE OTHER EXHIBITIONS (for a full list see my Detailed Index")