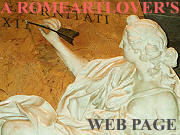 What's New!

Detailed Sitemap


All images © by Roberto Piperno, owner of the domain. Write to romapip@quipo.it. Text edited by Rosamie Moore.
Extravagant Capitals




The traditional classic orders of capitals were abandoned during the Middle Ages and capitals were used for the most extravagant purposes. In Tuscania the church of S. Maria Maggiore has the Flight to Egypt sculpted on a capital. In Narni the church of S. Maria Impensole has a man embraced by bears....




...and the church of S. Andrea in Montefiascone has flying snakes.

The frog and the lizard in S. Lorenzo fuori le Mura were thought by J. J. Winckelmann in the XVIIIth century to be the "signature" of two classical sculptors: Batrax (frog) and Saurus (lizard).




Winckelmann underestimated the skill of the XIIIth century stone-cutters who added the missing parts to some of the ancient columns used in the nave and in the porch.

The Renaissance brought back the old classic capitals, but here are some more recent extreme extravaganzas. In the cloister of S. Gregorio in Rome a capital made of skulls and in Palazzo Venezia a XXth century tribute to the Venetian Republic and its mastery of the seas.




Wandering about in Villa Sciarra the old Villa Barberini transformed into a public garden with statues and fountains coming from an XVIIIth century villa near Milan, I unexpectedly came across this surviving reminder of the glory of Pope Urban VIII. The family bee is still there!









SEE THESE OTHER EXHIBITIONS (for a full list see my Detailed Index).