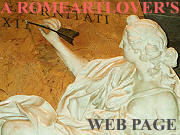 What's New!

Detailed Sitemap


All images © by Roberto Piperno, owner of the domain. Write to romapip@quipo.it. Text edited by Rosamie Moore.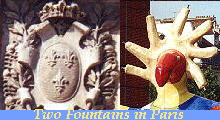 Two Fountains in Paris

Fontaine des Innocents

The "cimetière des Saint-Innocents" was the graveyard of Paris for many centuries and it was located inside the medieval walls. Close to it was the city market "Les Halles". In 1549, under the kingdom of Henri II, the French architect Jean Goujon was charged with the erection of a fountain which was called Fontaine des Innocents because of its proximity to the wall encircling the graveyard.
It is the only Renaissance fountain in Paris. We know very little about Jean Goujon, but it is very likely he travelled through Italy in his youth and what he saw there clearly influenced his work. He then returned to Italy and he died in Bologna, where there is evidence of him until 1563.
In 1786 the graveyard was relocated and the fountain was moved in 1788 to its current location, south of Les Halles. A fourth side was sculpted by Augustin Pajou in line with the original three sides.




Coats of Arms

The fountain makes clear reference to King Henri by showing his monogram (one letter is enough for a king) and the royal coat of arms. The artist pays also a tribute to Queen Catherine de' Medici through a coat of arms showing both the fleurs-de-lis and the pills of the Medici. Catherine married Henri at the age of 14 and for thirty years after his death in 1559 she influenced the history of France through her three sons (Francis II, Charles IX and Henri III). Finally in the lower part of the fountain, the little ship is the symbol of Paris.






The Decoration

Each side of the fountain is a little Roman arch. Two nymphs on each side are represented in the act of pouring water. It is interesting to note that they are very tall, as in many paintings of the Mannerists.




The decoration of the arch shows the influence of the Roman triumphal arches where two victories fill the angles. The top of the fountain shows putti playing water games, a traditional subject preferred by the sophisticated late Renaissance upper classes.




Fontaine Stravinsky

A two minutes' walk east of the Fontaine des Innocents leads to a very different fountain, close to the Centre Pompidou.
Jean Goujon is replaced by Niki de Saint Phalle, who populated the fountain with subjects referring to works by Stravinsky.




Sitting at a sidewalk cafè and watching Niki's amazing creatures continuously revolve is a pleasure of life.




And the mermaid, isn't she a hymn to the "joie de vivre"?









SEE THESE OTHER EXHIBITIONS (for a full list see my Detailed Index)