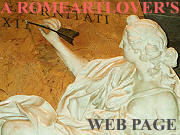 What's New!

Detailed Sitemap


All images © by Roberto Piperno, owner of the domain. Write to romapip@quipo.it. Text edited by Rosamie Moore.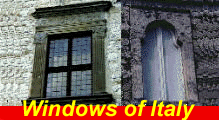 Windows of Italy

(what follows is a personal choice of windows seen in my wanderings)

There were no windows in the old times! Roman buildings received light from the inner courtyard. We start to see them in the Middle Ages like this one in Ascoli.




Umbria hosts some of the most fascinating medieval towns (and windows). Here below on the left Gubbio, on the right Narni.




Renaissance architects introduced classical elements in the design of windows. Within the Papal States for more than two hundred years the da Montefeltro had an autonomous government over Urbino and the surrounding areas. For their Palaces in Urbino (left) and Gubbio (right) Luciano Laurana designed these windows.




Another kind of Renaissance window is called Guelph cross window and it is the distinctive mark of Palazzo Venezia in Rome. The example below is in Tivoli.




The house of Lorenzo Manilio near the entrance to the Ghetto of Rome, an early Renaissance building, shows the love of the owners for Ancient Rome in the script "HAVE ROMA" above a very typical Italian window.




Late Renaissance and Baroque windows have a more complex structure and decoration. In Via Giulia the Farnese built for one of their many houses this wonderful balcony decorated with their coat of arms.




Francesco Borromini at the very early stage of his career designed for Pope Urban VIII's family palace this innovative window.




Later on Borromini built for Pope Innocent X in Piazza Navona his family palace with this large window with the symbols of the family (you can see it both in the old and new colours of Rome).




A very extravagant window you can see in Rome is in Via Gregoriana (Palazzo Zuccari) where monsters encircle the windows and the main door. In Florence the late Renaissance window of Palazzo Nonfinito by Bernardo Buontalenti hides a bat.




The main square of Montepulciano in Tuscany has a Renaissance palace of the family Del Monte (Pope Julius III). In the XVIIth century a second floor with Baroque windows was added to the palace.




A Baroque building in the middle of imperial Rome (along the Circo Massimo, south of the Palatino) shows these peculiar windows.




Sometimes a window remains in our memory because of special circumstances. When I visited Zagarolo (in the 1990s), the run down family palace of Pope Clement IX (Palazzo Rospigliosi) was hosting a temporary modern art exhibition.




Also unpretentious windows have some magic: Priverno a medieval town at the southern border of the Papal State offers this nice window.




and a few flowers add to the grace of this window in Tivoli.

Wandering about in Trastevere this cosy window, caught my eye. The curtains show the rampant goat of the Altemps family, who had their Chapel in nearby Santa Maria in Trastevere.










SEE THESE OTHER EXHIBITIONS (for a full list click here)