Introduction


The coats of arms of the Popes
Rome was the capital city of a small state in the center of Italy for more than 1000 years. If you think of London you know that the monarch could have been a Tudor or a Stuart or a Windsor, well in Rome dynasties changed on average every seven years when a new Pope was elected, so by looking at the coat of arms of the Pope you can understand when the church or the palace was built. I'm not going to speak of the Popes as Church leaders, but just as monarchs of Rome.
They all desired to leave a sign of their rule in this world. This also influenced the arts and artists like Bernini and Borromini.
This fountain near St Peter's shows the symbols of the Pope:

the "Triregnum" (three kingdoms) the crown of the Pope

the keys of St. Peter (one of silver and one of gold)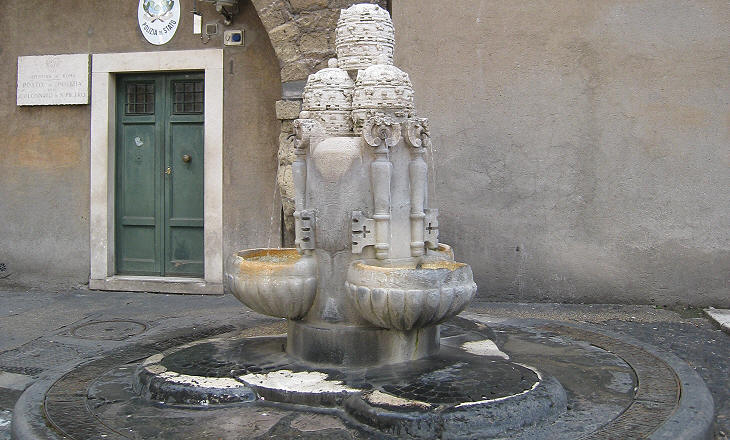 The triple crown was designed in the XIVth century. A double crown is clearly visible in the Monument to Pope Bonifatius VIII (1294-1303) by Arnolfo di Cambio now in the Vatican Grottoes. A third crown was added during the period the popes lived in Avignon.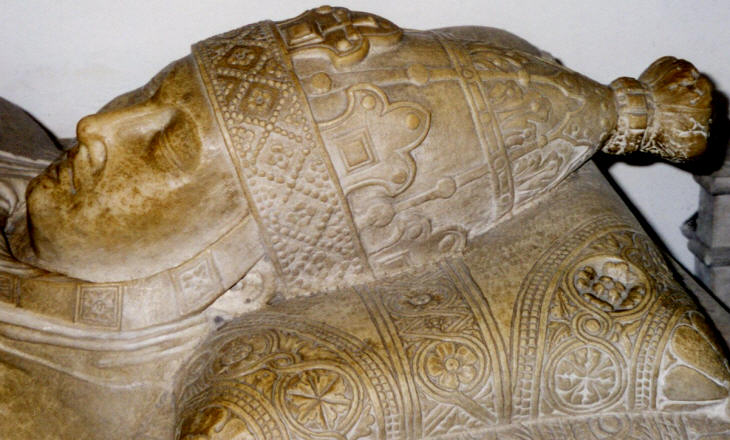 Monuments to Bonifatius VIII (1294-1303) and Nicolaus V (1447-1455) in the Vatican Grottoes


The Papal State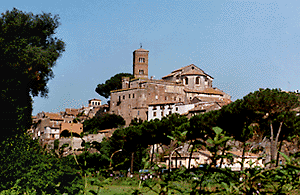 The Papal State begins with the "Donation of Sutri" in the year 728 when the King of the Longobards Liutprando gave to Pope Gregorius II the castle and town of Sutri, (see pic) some 40 miles north of Rome.
At the beginning it was limited to a small area known as "Patrimonium Petri" but in the XIIIth century Pope Innocentius III expanded it to cover most of central Italy, with the exception of Tuscany, but including some territories between the Appennines and the river Po. It also included Avignon and the Comtat Venaissin in France and Pontecorvo and Benevento in the Kingdom of Naples. Here below you can see the Papal State in a map of the times of Pius VI (1775-1799). The Church is a woman holding the keys of St. Peter and with the Triregnum.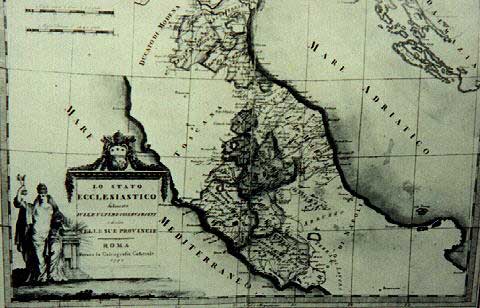 In 1870 Italy was unified and in 1929 an agreement between the Italian Government and the Pope settled the "Questione Romana" by the creation of a tiny State around the Vatican Hill for granting the independence of the Church.

AKNOWLEDGEMENT Let me now introduce my nephew to whom I owe the encouragement and technical advice who made me join the net.
VISIT THE FOLLOWING PAGES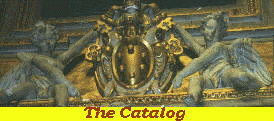 or you can go to the Main Page or have an overview of the Plan of this site or go the Detailed Index.
This site offers you also the plates by Filippo Juvarra on the most beautiful coats of arms.

© 1997 - 2001 romapip@quipo.it