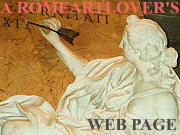 What's New!

Detailed Sitemap


All images © by Roberto Piperno, owner of the domain. Write to romapip@quipo.it. Text edited by Rosamie Moore.
Page revised in August 2010.

Disegno dell'Anticaglia nel Giardino Colonnese
(Book 10)
The Plate (No. 193 - ii)
In this additional etching to the view of Giardino Colonnese, Giuseppe Vasi showed the ruins of the Temple to Serapis, built by Emperor Caracalla, as they appeared in a 1565 book by Bernardo Gamucci; the old drawing shows also Torre Mesa, a tall and lean tower which was part of the Colonna medieval fortifications; on the left part of the etching Vasi showed another view of the ruins based on a different drawing; the ruins and Torre Mesa were pulled down by the Colonna in the XVIIth century; decorative elements were used to embellish the gardens.
In the description below the plate Vasi made reference to: 1) current appearance of the old ruins; 2) XVIth century drawing showing how they appeared at that time. The small map shows: 1) Casino Colonnese; 2) Scuderie del Quirinale; the red dot indicates the approximate location of the ruins.


Today
June 2010: ancient walls in Giardino Colonnese (in the background Palazzo and Scuderie del Quirinale); (right) an ancient brick pillar seen from Scuderie del Quirinale
When in 1927 the casino built by the Colonna was pulled down some ancient walls were unearthed and restored; they can be seen from the terrace of a modern building and from Scuderie del Quirinale; the terrace enjoys a fine view over the domes of Rome.
(left to right) Dome of S. Ivo alla Sapienza, S. Agnese in Agone, S. Pietro, Pantheon and Collegio Romano
The image used as background for this page shows the heraldic symbol of the Colonna family.
Next plate in Book 10: Casino della Villa Peretti